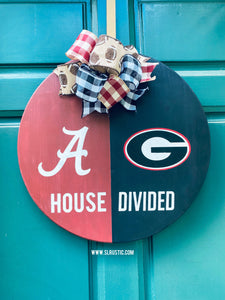 Custom Football House Divided Round Wood Door Hanger
Regular price $50.00 Sale
Custom Football House Divided Door Hanger
This is a custom sign! You can choose whichever two teams you'd like, and I will add the logos along with their rightful colors.
Each sign will include the football ribbon, along with other colors that match the two teams that you have chosen. 
If you are wanting the background halves to be a specific color, please add it next to each team name in the personalization box.
◈ HANDMADE with wood and ALL paint (no vinyl)

◈ ready for hanging
◈ Wood round is 16 inches round and 3/4" thick 
Use a wreath hook to hang on your front door! It's sealed for protection against outdoor elements. 
My signs are truly hand made and are therefor imperfectly perfect :) The wood has been slightly sanded, but the character of the natural wood has still been preserved with all of its knots and cracks.